New Executive Director of National Sheriffs' Association Unveils Goals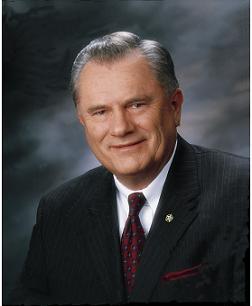 As a 20-year veteran of the Salt Lake City (UT) Police Department and as Sheriff of Salt Lake County for 17 years, Aaron Kennard's background in law enforcement is no doubt rich. But when it came to being selected as the new Executive Director of the National Sheriffs' Association (NSA), the decision was based on more than merely his law enforcement experience, but rather his history of direct involvement with Neighborhood Watch and his commitment to helping the program to expand. In his new role, which he assumed this past Winter, Sheriff Kennard must draw upon his vast knowledge of crime prevention methods, as well as his negotiating skills, as meeting with lawmakers on Capitol Hill is now a part of his regular routine. Here is a sneak peak at his plans for the future of the NSA.
Salt Lake City and Neighborhood Watch
It was 20 years ago, when Sheriff Kennard, then a member of the Salt Lake City Police Department, launched the first Neighborhood Watch program. In part, the reason for introducing the program was to manage a pattern of crime that was taking place in a certain section of town and negatively impacting the city. It would ultimately prove to be a vital resource.
"Neighborhood Watch was a very important project on the west side of Salt Lake City because some of the serious crime problems that were occurring there, and up to that point, we were not accomplishing what we needed to," explained Kennard. "Introducing Neighborhood Watch presented an opportunity to get volunteers to work together to identify some of the problems and build partnerships with law enforcement."
That partnership quickly developed and flourished. Today, crime prevention programs are a fundamental component of both the Salt Lake City Police Department as well as the Salt Lake County Sheriff's Office. Through the outreach of both, citizens have the opportunity to receive training that enables them to more accurately recognize and report criminal or suspicious behavior so that they can aid law enforcement and better protect themselves and the community from crime. Beyond crime prevention, neighborhood watch groups in the Salt Lake City region sponsor community clean-ups, collect items for less fortunate individuals, organize after-school activities for young people, assist those who have been victimized by crime, and form task forces to bring community issues of concern to the attention of lawmakers.
Extending Training
Kennard plans to draw from the experience garnered in Salt Lake City and thrust the Neighborhood Watch program to the next level on the national stage. "Neighborhood Watch essentially is homeland security on the local level," said Kennard, "and it doesn't just involve neighbors, but county, state, and even federal government involvement." The key to success, says Kennard, is getting people from every level to work together, and it all starts with cooperation between a community member and his or her local police officer, and extends right up to the highest echelons of the federal government and private industry.
In order to promote cooperation, Kennard describes three main components of his plan to advance the Neighborhood Watch program: increased training of community members, strengthened partnerships with national level officials, and collaboration with the private sector.
"I consider it my responsibility to increase training opportunities for anyone interested in getting involved in communities around the country," explained Kennard. He says that it is crucial that volunteers receive the necessary training to effectively handle the various types of situations they will come face to face with in their neighborhoods – and this includes not only crime prevention education but also emergency preparedness instruction. "To prepare our citizens for their role as community watch volunteers, it is essential that we offer more than a handbook. We have to make sure that we are equipping them with appropriate training and instilling in them a solid understanding about what their role as volunteers is." Kennard emphasizes that one of the challenges is ensuring that volunteers don't confuse their role with that of pseudo-police officers, and one of the components of training should be to impress upon volunteers that they are the eyes and ears of law enforcement and that they must not cross the line.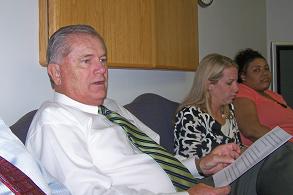 Another challenge that Kennard points out is combating the faulty perception held by many that the Neighborhood Watch program is nothing more than a group of nosy citizens whose goal is to spy on their neighbors or a source of the Big Brother phenomenon. He hopes that appropriate training will serve as an effective remedy to this misperception.
Fortifying Partnerships
Perhaps the biggest challenge Kennard faces, however, is ensuring that funding for the program is available, which is directly connected to strong national partnerships. "Local law enforcement agencies are hard pressed to get their officers out of their patrol cars and onto the streets of communities," said Kennard. "But in order to be able to do that, they need enough funding, so I will regularly meet with the Department of Justice, the FBI, the Department of Homeland Security, and other federal agencies to stress the importance of the Neighborhood Watch program and to justify sufficient funding."
In addition, Kennard also plans to reach out to the private sector and encourage businesses to get involved in the program. "There are representatives from businesses out there who are waiting to be asked to get involved, who want to offer their facilities to host meetings, and who are willing to provide funding for signs and other Neighborhood Watch materials," explained Kennard. "In general, businesses like being a part of such activities and one of my goals is to actively seek participation from as many businesses as possible."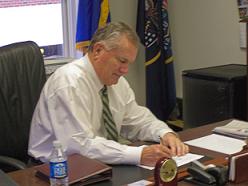 While Kennard is fully aware of the magnitude of the task before him, he's equally excited about taking on the challenge because of his strong convictions about the value of Neighborhood Watch. "I've seen firsthand what a success the program is and what it can do for communities," said Kennard. "My goal as Executive Director of the National Sheriffs' Association is to take the program to the next level and do everything in my power to secure funding to make it possible for anyone who wants the program in their community to have access to it."