October is Crime Prevention Month
October is National Crime Prevention month—a time when the National Crime Prevention Council (NCPC) asks us to renew or join the commitment to help "Take A Bite Out Of Crime®." In 1984, October was designated as Crime Prevention Month through a Presidential proclamation and since then, NCPC has been working with local law enforcement, government agencies, civic groups, schools and businesses, and other organizations to help them spread the word about crime prevention and personal safety. With shrinking law enforcement budgets across the country, the role that each of us can play in preventing crime is more important than ever.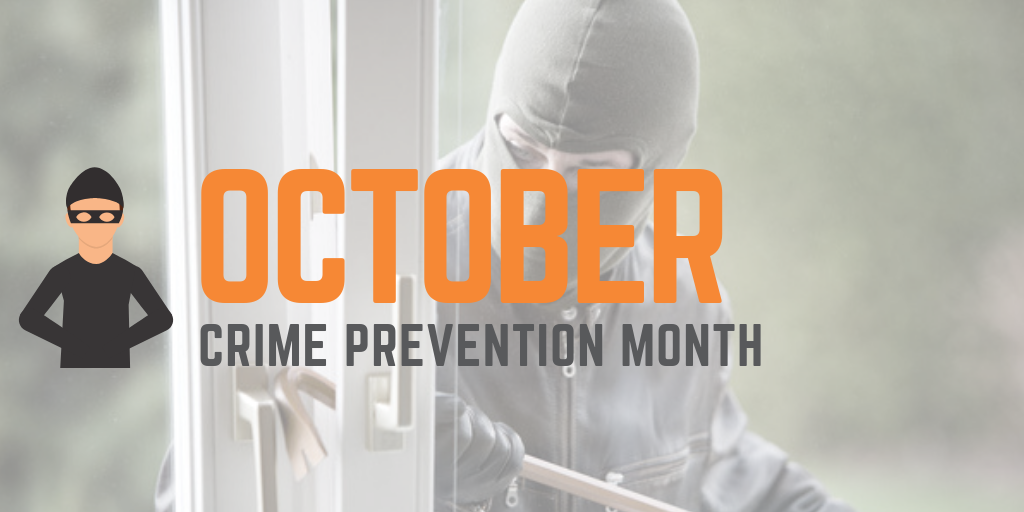 2020 Crime Prevention Month Themes
The National Crime Prevention Council (NCPC) selects annual themes based on crime trends and local feedback. NCPC works with national partners to provide free, online resources to help communities address these trends locally. Resources—training programs, blogs, podcasts, downloadable education materials, and links—will help law enforcement, crime prevention practitioners, and community groups plan and implement CSC events during Crime Prevention Month or throughout the year. Budgets are tight, so it's more important than ever to emphasize prevention by recognizing past successes, organizing new CSC events, and planning for the future.
Each week of Crime Prevention Month, a theme, partners, and resources will be highlighted.
Week 1:  McGruff® Turns 40!
The National Crime Prevention Council's official kick-off during Week 1 of Crime Prevention Month is a celebration of McGruff the Crime Dog®, America's beloved crime prevention icon who—with NCPC—has led our nation's efforts to help people keep themselves, their families, and their communities safe from crime for 40 years.
Since he first appeared in 1980, his message has been to urge everyone to do their part to "Take A Bite Out Of Crime®."
You can help us keep the celebration going throughout the month of October by posting your favorite ads or memories of McGruff and tagging NCPC on Twitter (@McGruffatNCPC), Facebook (@McGruff), on Instagram (@mcgruff_ncpc) or using hashtag #McGruffTurns40.
Week 2: Stay Safe. Go For Real.
Take a stand against counterfeits during Crime Prevention Month by helping NCPC and the United States Patent and Trademark Office raise public awareness about the dangers of counterfeit products.
Most people want to find the best deal shopping, especially when they can easily compare prices online. Little do they know they could end up paying twice because of shoddy goods. They could even pay with their lives in the case of electrical fires if what they bought is counterfeit.
Fakes cause REAL harm. Do you know what's inside fake products? Take the Go For Real Challenge to test your knowledge of counterfeits.
To access the Go For Real Anti-Counterfeiting Campaign digital resources and share them with your family and community, visit www.ncpc.org/GoForReal. #GoForReal
Week 3: Working Together to Reduce Violent Crime
NCPC is partnering with the U.S. Department of Justice (DOJ), Office of Justice Programs (OJP), Bureau of Justice Assistance (BJA) National Officer Safety Initiatives (NOSI) Program to help keep communities safe from the damaging impacts of violent crime.
NCPC is devoting Week 3 of Crime Prevention Month to reminding communities and individuals that driving down violent crime is a responsibility shared by all. You can support violence prevention efforts by helping NCPC educate people young and old about the steps we can all take to protect ourselves and our neighborhoods – because everyone's safety depends on it.
Week 4: Promoting Public Health and Safety in Communities
NCPC is dedicating Week 4 of Crime Prevention Month to working with law enforcement and community leaders to promote public health and safety.
Illicit, black-market vapor products have negative public-health consequences and are infiltrating local communities. These illicit products undermine efforts to combat youth vaping and present additional health and safety risks for adult consumers. Help us in our joint effort with the National Intellectual Property Rights Coordination Center (IPR Center) and Juul Labs, Inc. to protect adult consumers from the additional risks of illicit vapor products and keep all vapor products—authentic ones and fakes—out of the reach of our country's youth.
We hope you use the resources we offer this week to educate yourself and help raise awareness in your community about the dangers of illegally sold goods. Working together, we can combat the dangers of illicit vapor products through awareness and education.
Week 5: Protect Your PIN: Outsmart Fraudsters
AT&T and NCPC are teaming up to help raise awareness about social engineering scams in a new public education campaign with the call to action – Don't Take The Bait – Validate! As fraud concerns are heightened during the global COVID-19 pandemic, the campaign aims to help empower consumers to outsmart fraudsters by protecting their PINs, passwords and personal information from incoming callers who may not be who they say they are.
Fraudsters use social engineering tactics to trick consumers into sharing confidential and personal information. They are skilled con artists who impersonate government, community, and business officials such as law enforcement, local charities, and service providers. Once fraudsters have someone's personal information, they can use it to make unauthorized purchases, drain financial accounts or even steal someone's identity.
To learn more, visit www.ncpc.org/fraud and www.att.com/cyberaware.