A Match Made in Portland
Crime Prevention and Disaster Preparedness Volunteers Join Forces in Portland , Oregon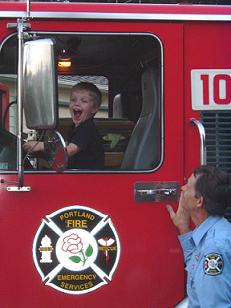 The Portland Office of Neighborhood Involvement uses National Night Out parties to spread information about both crime prevention and disaster preparedness.
When you think of the word "hero," who comes to mind? The fearless police officer who apprehends violent criminals? The burly firefighter who rescues babies from burning buildings? Or, perhaps, the ER doctor who saves young trauma victims on the verge of death? You might be surprised to learn that professional responders usually are not the first ones to arrive at real-life emergency or disaster scenes. In about 80 percent of cases, the first to render assistance will be the middle-aged guy with whom you share gardening tips over the backyard fence or the soccer mom in the split-level ranch three doors down—your neighbors.
Members of Neighborhood Watch understand the importance of getting to know one's neighbors and working together to prevent crime and improve quality of life in the community. Today, many Neighborhood Watch groups are taking the Watch concept a step further by teaming up with their local community emergency response teams (CERT) to prepare for the unexpected. This partnership is mutually beneficial because the organizations share common goals, and both are components of Citizen Corps, a volunteer program coordinated by the Federal Emergency Management Agency designed to keep communities safe from terrorism, crime, and disasters. One shining example of successful collaboration is taking place in Portland, Oregon, which is expanding opportunities for its Neighborhood Watch and Neighborhood Emergency Team (NET) (the Portland equivalent of CERT) to interact and collaborate during joint training exercises and conferences.
Portland : Unique City, Unique Challenges
Straddling the Willamette River , Portland boasts a population of nearly 545,000 and is Oregon 's largest city, yet it has retained its small-town flavor. The city is a nature-lover's paradise, with the Pacific Ocean and majestic Mount Hood only short drives away. Unfortunately, Mother Nature occasionally asserts her power, putting the city at risk for all types of natural disasters, with the exception of hurricanes. Recent examples include a violent storm that dumped three feet of snow on Mount Hood in 2006 and claimed the lives of three experienced climbers. Those who lived in Portland in 1980 also remember when Mount St. Helens erupted 53 miles away in Washington state and blanketed the city in volcanic ash.
Many experts believe, however, that the biggest natural disaster to strike the Willamette Valley is yet to come. Portland sits along the Cascadia Subduction Zone, a 600-mile-long fault capable of producing earthquakes of magnitude 9.0 and greater. The last major seismic event happened in 1700, when an earthquake so strong that it caused a tsunami in far-off Japan shook the Northwest. Sediment deposit studies indicate that large quakes occur along this fault every 300 to 500 years, suggesting that a repeat event may be imminent.
The idea to improve coordination between Portland 's crime prevention and disaster preparedness programs was inspired by lessons learned from Hurricane Katrina, which devastated New Orleans and the Gulf Coast , in an attempt to avoid repeating the types of mistakes made there if natural disaster should strike Portland . Within the city, Neighborhood Watch and NET are managed, respectively, by the Portland Office of Neighborhood Involvement (ONI) and the Portland Office of Emergency Management (POEM). Established in 1974, ONI works with the city's government agencies and with neighborhood and business district associations to address crime and improve quality of life. ONI coordinators assist neighbors with problem-solving projects related to issues common in many large cities, including youth gangs, prostitution, and neighborhood beautification. POEM oversees 50 NETs. NET participation is open to residents age 14 and over, and all volunteers receive eight weeks of basic emergency assistance training in topics ranging from fire suppression to medical triage.
Ready. Safe. Go. and TOPOFF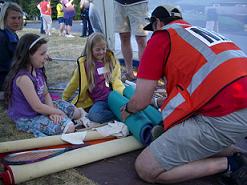 A NET leader teaches children how to create splints for broken bones during a National Night Out party.
Over the past two years, ONI and POEM have collaborated on several events that have brought together Neighborhood Watch and NET volunteers. On April 28 of this year, the two agencies hosted the second annual Ready. Safe. Go. conference, which featured more than 20 beginner- and advanced-level workshops on a variety of topics, including crime prevention in parks to patient transportation and victim extrication. During the conference, some 300 Neighborhood Watch and NET attendees also participated in joint tabletop exercises designed to teach the two groups to effectively interact during an emergency. The event concluded with a volunteer recognition ceremony that honored members of both organizations. Positive feedback has led to plans for a third conference next year.
This year, Portland was selected as a site for TOPOFF (short for Top Officials), a disaster preparedness drill developed by the U.S. Department of Homeland Security to test federal, state, and local response capabilities. From October 15 to 19, government agencies and volunteers in Portland and the surrounding counties coordinated efforts to respond to a mock attack in which terrorists successfully detonated a radiological dispersal device, or "dirty bomb," causing casualties and wide-spread contamination in a densely populated area near a power plant.
When real-life disasters strike, response and rescue efforts are often hindered due to widespread panic. During TOPOFF, NET participants borrowed communications systems, most notably the telephone trees developed by crime prevention volunteers, to quickly contact residents in order to control the spread of gossip and purvey important information. "We used the Neighborhood Watch structure to call members of the community and reassure them that they would be safe if they remained in their homes," said Stephanie Reynolds, ONI Crime Prevention Program manager. "We told them where to find news and up-to-date radio information." Neighborhood Watch volunteers then met up with NET members and fanned out to the neighborhoods to check up on and assist individuals in need.
Neighbors in the Know
To promote continued interaction between Neighborhood Watch and NET, Portland officials used the Ready. Safe. Go. conference to showcase a new publication titled Know Your Neighborhood . Developed by ONI with funding from the Department of Homeland Security, this 10-page guide to crime prevention and disaster preparedness lists steps individuals should take to secure their homes following a catastrophic event and explains how they can mobilize their neighbors to respond to crime problems. A neighborhood skills and equipment inventory sheet provides block leaders with information about neighbors that could prove crucial in an emergency—such as who has first-aid training or childcare skills and who owns a chain saw or spare generator. "In a massive disaster, professional first responders will be overwhelmed with the amount of calls for help. Citizens will be the first ones on the scene to respond in their community, and we're counting on their assistance," said Lawrence Behmer, NET coordinator and chair of the Portland Citizen's Corps Council. "For many people, Know Your Neighborhood will be the first step in their efforts to strengthen their communities."
Portland currently has approximately 600 Neighborhood Watch groups throughout the city. Most groups initially formed in response to a specific issue, and some have occasionally gone dormant once the problem has been resolved. ONI is promoting Know Your Neighborhood as a motivational tool to ensure the city's Watch groups remain active and alert. "We try to educate them about the importance of keeping their telephone lists up to date in case of future problems," Reynolds explained. "We spend a lot of time coaching members on organizational leadership and encouraging participation in events such as National Night Out." As an added benefit, performing the joint crime prevention and disaster preparedness steps described in Know Your Neighborhood also help Neighborhood Watch groups maintain cohesion: "People can get together to help earthquake-proof each other's homes and help elderly neighbors attach bookshelves to the walls. They can help prune overgrown shrubs away from windows and change porch light bulbs. It makes everyone feel better to know their neighborhoods are safer."
Something for Everyone
Neighborhood Watch and NET share a common bond, and, historically, many volunteers have worn dual hats, serving in both organizations. "These two groups have similar concerns. They want their kids to be safe, and they want to feel safe in their homes," Reynolds said. Furthermore, Neighborhood Watch leaders can provide emergency response personnel with valuable information on at-risk community members. "A big part of our responsibility is to reach out to vulnerable populations such as seniors," explained Behmer. "We work with Neighborhood Watch to ensure these individuals are well served." Both organizations also encourage community enrollment in Portland 's Volunteer Emergency Registry Program (VERP), a Web-based system that allows seniors and citizens with disabilities to register online. Information contained in the database can be accessed by NET leaders during emergencies to help rescue personnel quickly locate individuals who use wheelchairs or oxygen, or who live in multistory buildings and cannot use stairs during elevator outages.
POEM has opened a volunteer coordination center where people wishing to join a NET can be screened, credentialed, trained, and tasked. "Many people want to be good Samaritans," said Behmer, "but it is important that they first be trained and organized so that they are put into areas where they can be most effective." He noted that Neighborhood Watch participants who have previous experience organizing block watches and foot patrols make excellent NET volunteers.
Age or physical limitations should not hinder anyone interested in joining a NET-type program. In Portland , NET participants range in age from 14 to 82 and come with diverse skillsets. "There's a role for everyone in a disaster," Behmer stated. "There are logistics functions and leadership positions. It's not all field work and pulling people out of rubble." He explained that during light fire suppression exercises, for example, someone must be responsible for checking extinguishers in and out to volunteers and recording the amount of chemicals used. Without proper administration, equipment disappears, supplies get depleted, and volunteers are misdirected. Experienced Neighborhood Watch participants provide vital organizational skills, freeing up emergency response volunteers to do their jobs more effectively.
Lessons Learned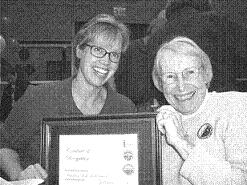 Ellen & Ginger, two Portland foot patrol leaders are honored at the city's first Ready. Safe. Go. conference in 2006.
For other communities interested in strengthening the link between their crime prevention and disaster preparedness organizations, Reynolds offers the following advice based on two years of experience with Ready. Safe. Go.: "Foremost, you need to build in time for people to talk to one another," she stated. "People love training and recognition, but they need time to compare notes and share concerns." A strong educational component is also critical because, she explained "You need to strike a balance. People feel cheated if they only talk to each other. They also want to hear from the experts." Speakers at the 2007 conference included representatives from the Multnomah County Health Department and Portland Fire and Rescue as well as a speaker from the Bureau of Emergency Communications who gave an overview of 9-1-1 call center operations.
For More Information
To learn more about Portland 's crime prevention and emergency preparedness programs, visit http://www.portlandonline.com/oni/ (ONI) and http://www.pdxprepared.net/faq.php (POEM). The Department of Homeland Security ( www.ready.gov) also offers excellent resources to help individuals and organizations prepare for events ranging from tornados and tsunamis to chemical and biological attacks. To learn about Citizen Corps and its program partners, visit www.citizencorps.gov .