It's a Small World: Crime Prevention in Ethnic Communities
How crime prevention organizations can break down cultural barriers and build trust between immigrants and law enforcement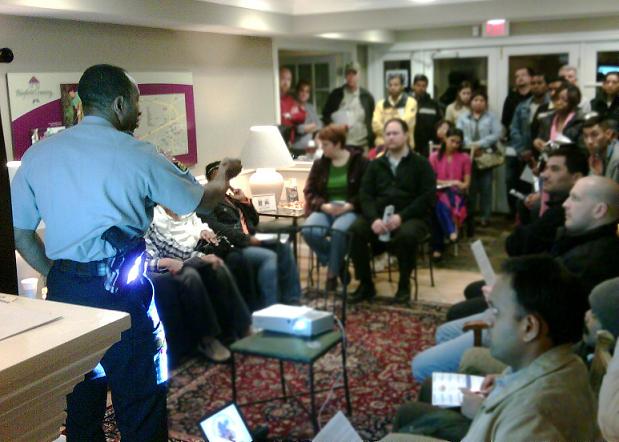 In May 1991, an altercation between rookie police officer Angela Jewell and Daniel Enrique Gomez, a 30-year-old Salvadoran immigrant, sparked a two-day riot in Washington, D.C.'s, Mount Pleasant neighborhood that resulted in hundreds of thousands of dollars in damages and strained relations between law enforcement and the Hispanic community. Events unfolded after Jewell shot and wounded Gomez during an arrest attempt, stating afterward that the drunken suspect had lunged at her with a knife. Witnesses disputed the account, however, claiming that Gomez had been unarmed and handcuffed when he was shot. Infuriated, some 400 area youth set off a two-day spree of violence, smashing shop windows, looting, and torching cars.
According to the U.S. Census Bureau's 2006-2008 American Community Survey, 12.5 percent of the United States population is foreign born. Immigrants hail from all corners of the globe, with the largest populations coming from Latin America (53.4 percent) and Asia (26.9 percent). While language and culture unite members of America's growing immigrant communities, they can also isolate individuals from other segments of the population as well as from public services. In turn, isolation can lead to mistrust, fear, and hatred—volatile emotions that, in extreme cases, ignite in waves of crime and violence.
Neighborhood Watch can help law enforcement build positive and productive relationships with the immigrant populations they serve, but crime prevention officers must first address a host of language and cultural issues. While success will not occur overnight, the rewards for the time and effort spent will be safer, happier communities for everyone.
Say What? Overcoming Communication Barriers
The most obvious hurdle to successful interaction between immigrant community members and crime prevention officers is language. According to the 2006-2008 American Community Survey, nearly 20 percent of Americans speak a language other than English at home (specifically, 12.2 percent Spanish/Spanish Creole, 3.7 percent Indo-European languages, 2.9 percent Asian and Pacific Island languages, 0.8 percent other languages). Of these individuals, only 56 percent say they speak English "very well." People of Hispanic origin alone account for 40 million individuals.
As the U.S. population of non-English speakers continues to rise, crime prevention organizations, both large and small, are seeking to enhance their communications capabilities by using bilingual officers and staff as liaisons. One example is the Albemarle County Police Department, which serves some 90,000 central Virginia residents, The agency's bilingual staff are at the forefront of an effort to reach non-English speakers, particularly the area's growing Hispanic population. Addressing the language issue in a 2008 NewsPlex.com report, El Salvadoran-born Officer Carlos Valladares explained: "'We have three Latino officers in the department and several that speak Spanish, so we definitely have the resources to communicate with [the Hispanic population].'"
In many regions of the United States, especially in and near large urban centers, multicultural neighborhoods create even greater communication challenges. The Washington, D.C., suburb of Fairfax County, Virginia, is home to a burgeoning community of immigrants who hail from all corners of the globe. Statistics for 2008 revealed a full 35 percent of county households that reported speaking a language other than English at home. A sizeable concentration of these households is located along the Lee Highway/Falls Church corridor, where law enforcement officers are actively working to encourage citizen participation in crime prevention activities. In response to a recent rash of car tamperings, Fairfax County Police Department representatives held a crime prevention education meeting with residents of a mixed-development condominium/apartment complex where nine foreign languages, including Spanish, Urdu, and Korean, are spoken. "Our goal was to let neighbors know they weren't being targeted specifically and educate them about the importance of crime reporting," said Master Police Officer Patrick Lucas, a certified crime prevention specialist. "There was good cross-cultural representation at the meeting. Most attendees were bilingual and included federal workers and World Bank employees. These residents were able to translate for other community members who don't speak English."
Foreign language-speaking Neighborhood Watch volunteers can serve as liaisons between their community and law enforcement, especially when hiring bilingual officers is economically unfeasible or, as in the Fairfax County example, when multiple languages are represented. Foreign language instruction also may be a cost-effective option for crime prevention officers and volunteers to develop rudimentary or conversational language skills needed to better serve their communities. At the least, a Vera Institute of Justice study titled Overcoming Language Barriers: Solutions for Law Enforcement recommends training all staff, from 911 operators to community liaison officers, on how to access language assistance services. Such training may include demographic information about specific communities, guidance on accessing translation and interpretation resources, tips on working with bilingual providers, and procedures to follow when no bilingual person is available.
Countering Fears and False Perceptions
Language difficulties aside, many foreign-born residents—including crime victims—avoid contact with law enforcement out of fear and distrust. According to a 2005 study titled Building Strong Police-Immigrant Community Relations: Lessons from a New York City Project, "As local and state law enforcement officers have begun working more closely with federal immigration authorities in the aftermath of September 11, 2001, immigrants have had even more difficulty distinguishing among these agencies." Often, the report notes, immigrants cite fear of deportation as a major obstacle to building productive partnerships with law enforcement. Sadly, in many cases, immigrants are targeted by criminals precisely because the likelihood of their ever reporting the crime is low due to their reluctance to contact the police.
Countering these fears is a major public relations challenge for crime prevention agencies—and a slow—and often frustrating—step in the trust-building process. To cite one recent example, a Fairfax County district office organized a free event to provide and fit vehicles belonging to immigrant parents with proper child safety seats. At the time, a neighboring county had just implemented a policy requiring law enforcement officers to check the immigration status of all arrestees. A false rumor spread throughout Fairfax County (which had no such policy) that the event was actually a sting operation designed to arrest illegal aliens. Consequently, few parents showed up. Three-hours south of Fairfax County, the Norfolk Police Department has worked to remedy similar misconceptions. "We have groups that are afraid of the police," said Officer Dámaso Medel. "We try to make them understand that our agency doesn't check immigration status and that they shouldn't be afraid to report crimes."
Both legal and illegal immigrants who flee their homelands to escape war and strive typically have starkly negative perceptions of law enforcement. The past two decades alone, the U.S. government has admitted thousands of refugees from dictatorships such as Myanmar and war-torn countries such as Iraq and Somalia. "Many of our immigrants come from countries where law enforcement abused their powers and instilled fear into their citizens," explained Stacey Payne, manager of the Lee County, Florida, Sheriff's Office Community Relations Section. A 2001 Bureau of Justice Assistance study reported similar findings within the Vietnamese community of Roanoke, Virginia, which cited "family experiences of police brutality and corruption" at the hands of the Communist regime as reasons for distrust of uniformed officers.
Culture Club
The key to cultivating positive relationships between crime prevention agencies and the immigrant populations they serve is education—specifically, training targeted toward the individual needs of sworn officers and administrative staff, Neighborhood Watch volunteers, and community residents.
Sensitivity training can help law enforcement and crime prevention officers avoid cultural faux pas that hinder relationship-building. In Roanoke, 250 members of the police department participated in a four-hour Vietnamese training program that included presentations about Vietnam's history, reasons for immigration to the coastal Virginia city, cultural differences, and behavioral protocols. The New York City Police Department uses a pamphlet jointly developed by the Office of the Deputy Commissioner of Community Affairs, The Vera Institute of Justice, and Arab community representatives to help officers understand the cultural norms of the city's large Arab-American population. Contents include important Arabic phrases and a pronunciation key, facts about Islam, as well as descriptions of social and religious customs. It recommends, for example, visiting private homes as a male-female pair because some Arab people consider it improper to admit person of the opposite sex without a chaperone present.
Assimilation into a new culture is challenging under the best of circumstances. Law enforcement and crime prevention organizations can help ease this transition while at the same time forging relationships with immigrant community members. In 2006, with a grant awarded by the Virginia Department of Criminal Justice Services, the Norfolk Police Department launched a crime prevention program to reach out to and bridge the gap between law enforcement and the city's large Hispanic population. "We were able to meet with members of the Hispanic community and find out what their needs were," Officer Medel stated, citing education and help with housing and medical services as the most pressing issues.
In urban centers such as Norfolk, illiteracy, in addition to language barriers, often threatens to impede progress. "Many of our immigrants come from poor countries and often lack formal education," explained Officer Medel. "We try to educate them from the ground level up and help them understand that the police are here for their benefit." In addition to explaining basic law enforcement procedures (e.g., common traffic infractions and why officers issue citations), the Norfolk Police Department works with other public service providers to locate Spanish-speaking points of contact as well as provide tips for accessing community services. Officer Medel also accompanies the department's crime prevention liaison officer to Neighborhood Watch meetings in order to provide Spanish-language interpretation and encourage Hispanic community participation.
The Word on the Street
Law enforcement organizations may find that expatriate eateries, community centers, and houses of worship are excellent venues for reaching immigrant community leaders with a vested interest in crime prevention. "We have worked diligently with the various faith communities in Lee County to build trust, teach our laws (especially traffic), teach how and when to call for help, and to answer questions and just get to know each other," said Payne. Similarly, Fairfax County Police Department representatives organized a meeting last year with a Hispanic church congregation located in the Falls Church corridor. "With the help of a Spanish translator, the department addressed issues ranging from quality of life to crime prevention and gave presentations," Officer Lucas said.
Heritage festivals offer another opportunity for crime prevention organizations to target select ethnic communities. In 2009, New Jersey's chief law enforcement officer, Prosecutor Luis A. Valentin, a Newark native of Puerto Rican descent, spoke at the Monmouth County Latino Festival. "This is part of our continuing effort to participate in important cultural events…. This is something we work on every day, to build that level of trust. You have to continue to foster relationships with any community," Valentin told the Associated Press.
Foreign language printed and online communications are another an important component of the relationship-building process. The Norfolk Police Department publishes English and Spanish versions of its monthly crime prevention newsletter Crime Prevention Connection/La Communicacion del Crimen. In Lee County, Florida, a popular international tourist destination, the sheriff's office website may be viewed in English, Spanish, or German. Communications materials need not be glitzy to be effective—it is the message that matters. With only a word processor, translation software, and a native-born proofreader, Sgt. Karen Ulsup, head of the Norfolk Police Department Crime Prevention Unit, helped foil criminals who had been targeting Chinese restaurant delivery drivers by producing a Chinese language pamphlet with tips for avoiding victimization. No robberies were reported in the months following distribution of the pamphlet and, according to an April 2009 article in the Virginian-Pilot (see Further Reading), local restaurant owners reported feeling safer.
Links
Albemarle County, Virginia, Police Department
Lee County, Florida, Sheriff's Office
City of Norfolk, Virginia, Police Department newsletter, Crime Prevention Connection
www.state.gov/g/prm/ (U.S. Department of State, Bureau of Population, Refugees, and Migration)
Further Reading
www.cops.usdoj.gov/files/ric/Publications/Building_PoliceImmigrant_Relations.pdf (The Vera Institute of Justice, Building Strong Police-Immigrant Community Relations: Lessons from a New York City Project, August 2005)
www.cops.usdoj.gov/files/RIC/Publications/vera_translating_justice_final.pdf (The Vera Institute of Justice, Overcoming Language Barriers: Solutions for Law Enforcement, 2007)
http://hamptonroads.com/node/505066 (Virginian-Pilot article "Tipsheet translation leads to fewer robberies"